Choosing the right power supply for your LED system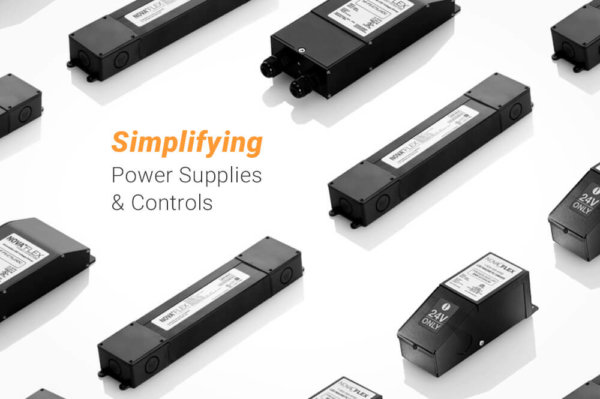 Apr 1, 2019
To build the perfect LED system, you need an array of varying components working together to create the most energy-efficient, visually pleasing project. Given that each lighting environment is so unique, understanding and selecting the right components to create that experience can be complex. One of the most critical aspects of that environment is your LED power supply – also referred to as a driver or transformer. Without the right power supply, not only does the system fail to operate properly, but you're also left without adequate control of your lighting. How do you decide which type of power supply is right for your unique LED system?
That will depend on a number of factors, ranging from your voltage needs to your dimming requirements and the environment of your system. Here are some key points to achieve the most glowing results for your LED system.
How do power supplies work?
Let's start by running through a simple overview of power supplies before we start determining which is right for you. Most LEDs are low-voltage, which means they need drivers to convert AC to DC and keep voltage flowing throughout your lighting. In addition to this crucial feature, power supplies ultimately determine the way you control your LEDs. Maybe you want a wide range of dimmability for your home theater. Perhaps color changing is a must for the signage outside your storefront. These factors help determine which driver is right for your application.
Constant voltage LED drivers
As the name suggests, constant voltage power supplies deliver a fixed output voltage (typically 24VDC) with a maximum output current to achieve optimal operation of the LED system. They are more flexible than constant current, as more LEDs are able to be added to the system until the maximum current capability is reached, with any additional LEDs after that only serving to reduce brightness. Constant voltage drivers are most often used in applications where the amount of LED loads will vary or when vibrant or contrasting colors are needed.
Dimming
Another key factor in finding your power supply is the dimming requirements of your LED system. Homeowners in need of under-cabinet or task lighting are usually not as interested in dimming, but if accent lighting or a wide range of output is preferred, dimming capabilities will be more of a concern. Popular LED dimming methods include:
Forward-phase dimming
Most common form of dimming that has been in the industry the longest, also referred to as Magnetic Low Voltage (MLV), Triac, and Leading Edge
In-Line dimming
This dimming is done on the load side (24VDC) and primarily used with an electronic non-dimming driver
An example would be the Nova Flex S3i Control Series
0-10V dimming & driver
Cutting-edge dimming technology that is universal with all 0-10V power supplies
Smooth dimming without any technical restrictions (doesn't require a minimum wattage load)
There are a broad range of power supplies available for your system depending on your unique needs, but none perform better than Nova Flex's 0-10V Dimmable Driver for static colors. No power supply integrates more easily within a system, while also delivering smooth dimming down to 0.1% without any flicker.
Achieve elite LED performance with Nova Flex
With complimentary professional layout design from Nova Flex, our customers are able to receive hands-on guidance on all aspects of their project, from ribbon and power supplies to controls and beyond. Simply send us the requirements of your application and our team of experts will determine the specifics and assemble your quote, removing all legwork and second-guessing from your side of the equation. It's the easiest way to conquer any and all of your lighting challenges with the support of those who truly know the industry.
Nova Flex delivers fully custom LED solutions for commercial, residential, and national distributors nationwide. Contact us today to turn your lighting challenges into glowing victories.