3560 Universal
SKU: NF-CH-3560-2M
Take your design creativity and flexibility to the next level with the new Universal 3560 Fixture.
Several connector options including T, X, L, L-in and L-out
Surface, recessed and suspended mounting options
Stocked in black or white; silver available as special orders
Lens options in soft, solid or black
Full fixture customization with multiple LED options from static white to DRGB, seamless lens, and custom Pantone profile colors!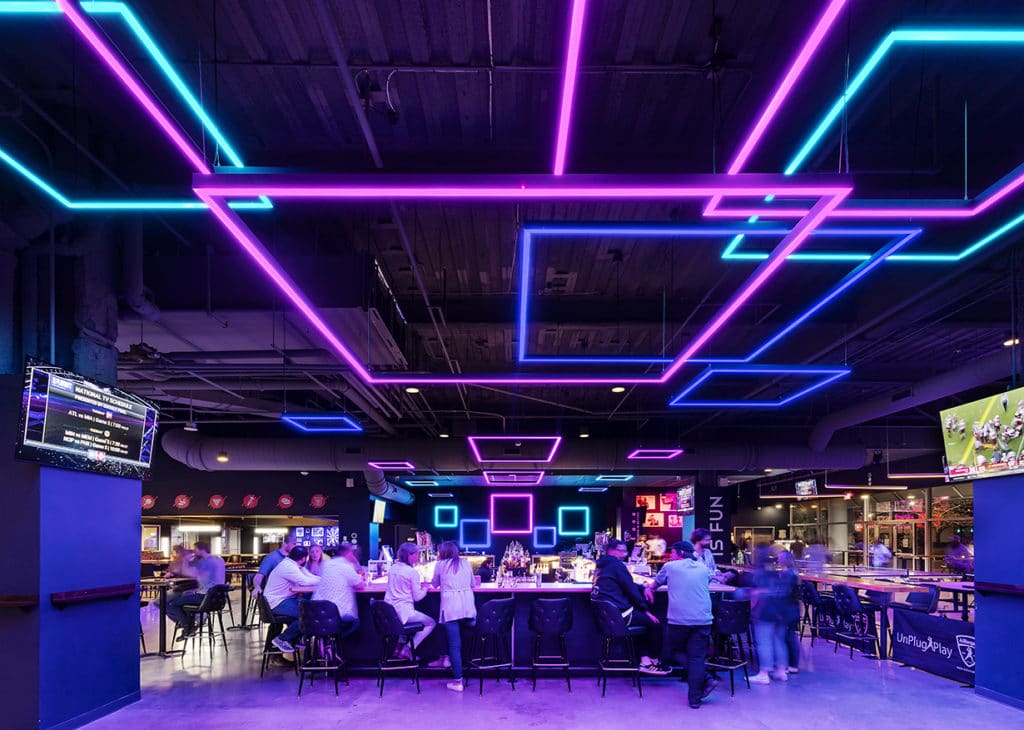 Ricochet
Designer/Specifier
:
RDG
- Shelby Klooster, Collin Barnes, Aaron Fulton, Lane Pralle
Distributor:
Van Meter Inc
Agent:
Mercer Zimmerman
Project Scope
: Renovate existing 10,000 SF space within a large commercial building that had been vacant for 20 years!
Problem:
Visibility and recognition at a distance was critical to the client. A design needed to be created that would evoke interest from a distance while also providing an immersive experience upon entry. The design wanted to be fun, playful, and capable of change to keep patrons coming back for a different experience. It also needed to be simple for owner maintenance and control while also providing maximum customization capabilities so that space could be tailored to the needs of any crowd or day.
Design Idea: 
They wanted something that had real presence and movement in the space and could communicate their message – Games! Also needed to consider appropriate lighting for game-play which meant layering in performance based fixtures to provide focused and high quality light for visual acuity.
Design Strategy: 
Custom square lights with narrow apertured - layered together for a multi-dimensional aesthetic. This featured lighting approach then moves over the bar and travels down the back wall for the ultimate movement experience. The lights are dynamic and allow the owner to preprogram color changing shows and static colors for a unique experience. The remainder of the space is illuminated through a series of linear lighting.