The Benefits of LED Neon vs Traditional Neon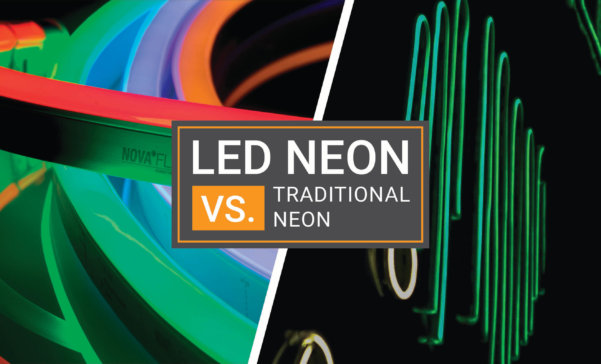 Oct 3, 2019
The Benefits of LED Neon vs Traditional Neon
Traditional Neon was first introduced in 1910 and was the only option on the market until recently. With advancements in technology, LED neon was developed as a safer and more efficient option. In fact, there are several benefits LED neon offers over traditional neon.
Durable and Environmentally FriendlyTraditional neon is made of glass, that can easily break and leak out toxic materials. LED neon is much more rugged and safe to the environment. The LED neon we offer at Nova Flex is a PVC silicone blended based with a silicone sleeve for added protection from UV, chemicals and saltwater. It's IP68 rated for wet and outdoor environments to withstand extreme weather.

It's not uncommon to see historic neon signs retrofitted with energy-efficient LED neon, such as the sign below in Minnesota. The Grain Belt Sign was built in 1941, measuring approximately 50 feet wide and 40 feet tall with over 800 feet of neon. The sign had been dark since the late 1990s, when it was restored to its original glory in 2017 with Nova Flex's RGB neon

Energy/Cost SavingsLED neon can save you 70% or more in energy costs compared to traditional neon! Traditional neon has a life span of 10,000 hours and uses 15,000 volts. Nova Flex LED Neon has a life span of 50,000+ hours and uses only 24 volts. That means you could turn on your lights for 12 hours per day and they would last more than 11 years.

With the significant savings LED neon offers, it's becoming more common on buildings, such as the fire and police station in this small town in Ocala, FL.

Ease of InstallationTraditional neon is very fragile and requires a skilled artisan to bend and install. LED Neon is easy to install by bending the neon to the desired shape with the use of channel or clips. Nova Flex also offers four different lead options (bottom, back, right, left) to ensure a seamless look as you can see on the project below Chicago, IL.

Shining Bright with LED Neon

Not only is LED neon more durable with significant cost savings, it's also much brighter than traditional neon.  Nova Flex takes it one step further, shipping the product configured and ready to install.

For over 10 years, Nova Flex has been making linear LED lighting easy. Contact us today to get started on your next lighting project.